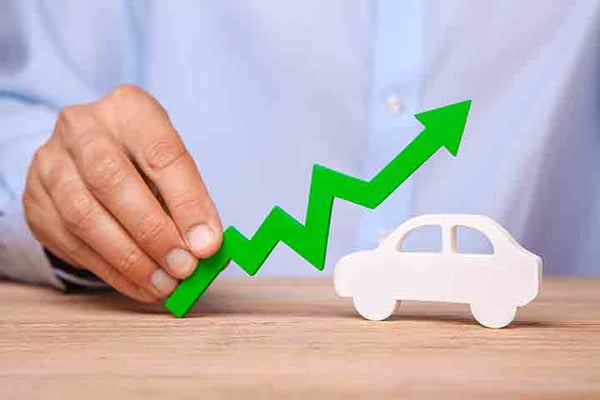 As new vehicle sales prices continue to rise, many lenders are feeling the pain in the way collateral protection premiums are calculated. Without any action at all on the part of the insurance company or the lender, your borrowers are paying more and more for coverage. The reason? Collateral Protection premiums are based on a percentage of the loan balance. As vehicle prices increase, loan balances are at all-time highs, and in turn, force-placed insurance premiums are higher than ever.
Another reason for the fast pace of CPI premium increases is the cost of vehicle repairs. The increased technology in automobile parts with motion sensors, cameras, cruise control regulators, etc. have greatly increased the cost of auto vehicle repairs. The higher the cost of repairs when a collateral protection company is trying to cover all of your uninsured borrowers drives up the cost of the premium.
Read our blog post: Factors that Determine Rates on Portfolio Protection Insurance for Lenders
Many lenders have found that they also are cut off from certain key coverages like Skip coverage and Premium Deficiency reimbursement when their claims are too high (which is common on a CPI program). One lender I talked with recently, said: "The charged-off CPI premiums were costing my institution over $50,000 annually." More and more lenders are realizing that a forced-placed Collateral Protection Program will be less and less feasible as prices of vehicles and the cost of repairs drive premiums too high for borrowers to afford. Many other lenders are saying that they see a rise in delinquency on accounts that have been forced-placed because of the payment spikes that the borrower must endure. So, what options does a lender have?
There is a rising trend to make the move to Blanket Insurance. The main philosophical question that you have to ask is, "Do I want to pay the price and go through all the hassles of CPI with tracking to try to insure every borrower that hasn't kept their agreement to keep auto insurance in place?" Or "Based on efficiency, borrower friendliness, and the cost savings to borrowers, is Blanket VSI the way to go?" With blanket single interest or VSI coverage you simply pay one small fee at loan inception and then there is no more insurance tracking or force-placing on your borrowers after that. The product does not cover borrower claims, it only covers the risk to you as the lender when there is an uninsured repossession with damage or a skip loss. The benefits, if set up correctly, far outweigh that negative. VSI is the classic model of insurance where everyone pays a small amount to insure the risk. However, it's difficult to make a model work when you're only placing coverage on those with the highest risk as in a CPI program. Is now the time for your institution to consider an alternative to CPI?
Read our blog post: An Alternative to CPI for Lenders
Golden Eagle Insurance specializes in Blanket Products and can walk you through the process of making the easy transition from the costly and cumbersome CPI program to a more efficient and borrower-friendly blanket coverage. Our Blanket Specialists also have protections for real estate portfolios to eliminate tracking on all loan portfolios including commercial equipment loans. Best of all, Blanket Coverages are examiner friendly. If you haven't taken a serious look at blanket coverage maybe now is the time to do so as CPI premiums on your borrowers continue to climb.